Who Should Have a Breast Thermography Screening?
Breast thermography is beneficial and safe for anyone in Los Angeles and acts as a preventative and proactive health screening. However, younger women between the ages of 30 to 50 years old who have dense breast tissue and who have found a mammography not as effective may discover thermography screening to be helpful when seeking a preventative screening or when a particular area of the breast needs closer examination. Tumours grow at a faster rate in younger women—those under 50.
Because a fast-growing malignant tumor emits infrared radiation, thermography can easily detect them, giving medical professionals a greater chance to effectively provide treatment. If caught early many women with breast cancer can easily conquer it and be free of it the rest of their lives if they receive early treatment.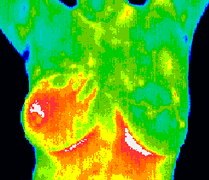 Inflammatory carcinoma was found in the right breast through a breast thermography screening. However, there were no clinical indications of the abnormality.
No breast exams had been performed nor was this 37-year old patient considered a high-risk patient. Unfortunately, the vascular asymmetry in the left breast was was found too late and thus fatal. The patient only survived a year.
Only one-percent of breast cancer is found in men with the survival rate being much lower than women due to later detection.